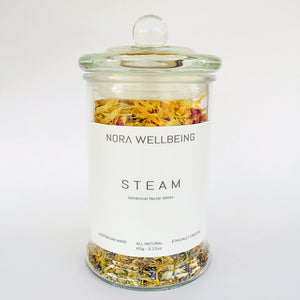 DETOXIFYING FLORAL STEAM | 60g
Regular price $22.00 Sale
BOTANICAL  FACIAL  DETOX 
STEAM is a powerful blend of detoxifying and healing botanicals. In our common lives we are in constant exposure to toxicity and free radicals. Our face is our front to the world so we like to take extra care of it, right? These herbs and flowers steeped together will gently but throughly clean and detoxify your face by withdrawing impurities. It also encourages the clearing away of old cells to make way for new, cleansed and restored looking skin!
NURTURING FOR ALL SKIN TYPES
WONDERS:
 Lavender, Camomile, Rose, Calendula, Rosemary, Chickweed, Fennel and Ladys Mantle
NORA TIP:
Apply ROSA (facial clay) by NORA 2x per week for
your best looking skin!
Cruelty Free - Sound Bathed
Australian  Owned & Made
Nora Original 2018
Ethically Created 

APPLICATION: Bring 4 cups of water to the boil, remove from heat and add botanicals then cover. Allow the botanicals to steep for 5 minutes. Once steam has reduced at a safe heat, lean over the botanicals approx.3 inches above water with a loose towel extended from the head over the water. Stay relaxed during your facial steam for 5 minutes. Once your steam is finished apply our facial serum or your favourite moisturiser. 
INGREDIENTS DETAILED: Lavendula Angustifolia (Lavender) , Matricaria Recuit (Camomile),  Rosa Centifolia (Pink Rose), Celendula Officinalis (Celendula), Rosmarinus Officinalis (Rosemary), Stellaria Media (Chickweed), Foeniculum Vulgare (Fennel), Alchemilla Vulgaris (Ladys Mantle)
* Information provided is not medical advice or treatment