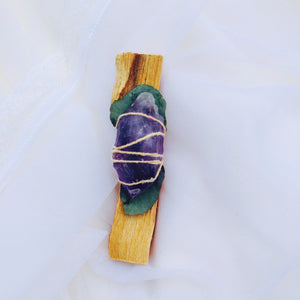 PALO SANTO WITH EUCALYPTUS & AMETHYST
BURSERA GRAVEOLENS
Ecuadorian Palo Santo is an native shamanic, medicinal tree. This Holy Wood has been used to energetically purify, cleanse and heal. It is anciently believed that when it's burning it clears the auric field of any unwanted or unsettling energy. It deepens ones connection to Mother Earth and Ourselves. Palo Santo is also believed to promote joyful, positive feelings.


OPTIMAL USE: Natural Incense, Ritual, Prayer, Meditation, Auric  & Energy Cleansing
" May the sacred spirit of Palo Santo protect, purify and connect me"

Sound Bathed In Tibetan Singing Bowls 

Blessed For Your Higher Good
Instructions: Ignite the wood and hold 45 degrees pointing the tip down toward the flame. Allow it to burn for 10 seconds and then blow out. Move the stick gracefully around a desired space. Move anti-clockwise to remove unwanted energy, clock wires to pull in prosperity. Be present as you smudge. The glow will end on its own or run the end under water then place into fireproof holder.
Always use full caution when using fire. Do not use in enclosed spaces with little ventilation. Be extremely mindful of flying embers. Do not smudge near anything flammable, skin, hair and fabrics. Do not use if you are pregnant or breastfeeding. Keep smudge stick out of the reach of children. Do not leave burning sticks unattended. 
*Information provided is not medical advice or treatment.
*No international shipping, sorry